null

Indirect/Direct Evaporative Cooling Units
Indirect/Direct Evaporative Cooling Units
Indirect Evaporative Cooling
Indirect evaporative systems perform very well in dry climates with high dry bulb temperatures. Our Indirect Evaporative Cooling Systems are available in many different sizes and configurations and can be customized for any project.
Benefits include:
Up to 100% outside air supply
Polymer tube heat exchangers
Integration with heat recovery systems
No humidity added to primary air
How It Works
With indirect evaporative cooling, there are two opposing airstreams that contact a different side of a heat exchanger. The outer wall of the heat exchanger contacts air that needs to be conditioned before it is delivered to the occupied space, and the inner wall is in contact with air that comes from the ambient environment or building exhaust.
Indirect evaporative cooling occurs when water sprayed to the interior wall of a heat exchanger evaporates. When the water evaporates, the outer wall of the heat exchanger is subject to evaporative cooling, allowing the airstream to be sensibly cooled.
Direct Evaporative Cooling
Direct evaporative cooling continues to be a popular solution. The process relies on the evaporation of water to produce significant cooling and humidification with minimal energy consumption. Even as technology has progressed, direct evaporative cooling is still the simplest, most cost-effective method of cooling and humidification for air.
Benefits include:
100% of evaporative cooling effect felt by room being cooled
Promotes good air quality by using fresh make up air
Up to 100% outside air supply
Quality evaporative media
Double sloped drain pans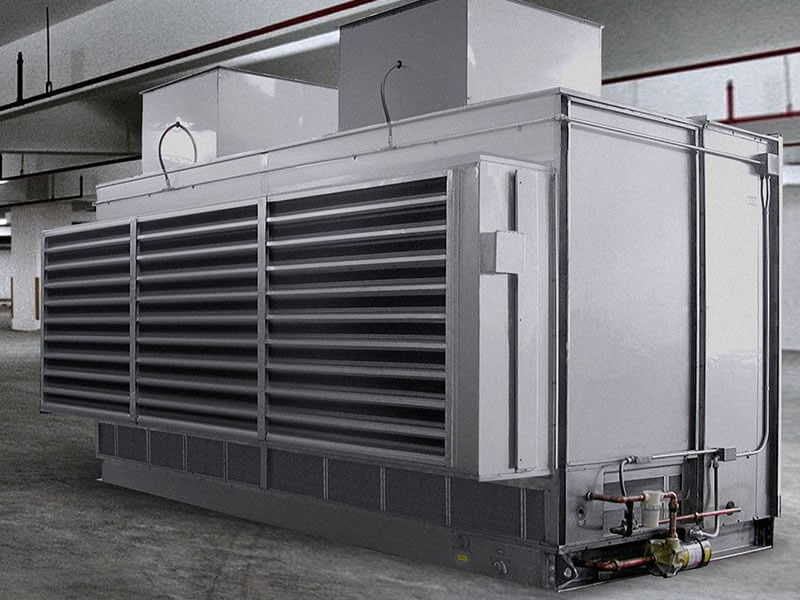 How it Works
Fans force air across an evaporative media, allowing evaporation to occur, resulting in a reduced temperature and increased humidity for the supply air. Wetted media is the substrate needed to allow the most contact of air to the evaporating water, and provides a durable, highly wettable, extended surface with low air-pressure drop. It is self-cleaning and consistent in performance, enabling customers to achieve the full cooling and humidification benefits of water evaporation for the cooled space.
Never miss an offer
Join our mailing list to receive the latest product news and industry updates from Vertiv.