null

Custom DX Cooling Solutions
Custom DX Cooling Solutions
Our DX designs represent some of the most energy-efficient systems in the industry. With our depth of expertise, we can think outside the box to deliver energy efficient DX systems at 10-25% higher efficiency than conventional DX systems. Our systems can be designed to approach the operating cost of more expensive chilled water systems.
We can provide high efficiency condenser fans that precisely ramp up or down in speed to match the load.
We don't just provide a standard compressor/coil combination that may be excessively oversized. Rather, we can optimize multiple compressor and coil designs to shave extra kilowatts off the load.
We can offer both indirect pre-cooled or direct evaporative cooled condenser options that can dramatically lower energy usage.
Standard size ranges are from 15-400 tons and custom sizes up to 1000 tons. Condenser coils are mounted in a "V" arrangement to maximize the available coil surface area for a given height of unit. Coils are counter flow with integral liquid sub cooling. Standard condenser coils are manufactured with 3/8" diameter copper tubes with a 0.020" tube thickness. Condenser Coils are a minimum of three rows deep with a maximum of twelve fins per inch fin spacing. Fins can be aluminum, or copper with additional special coatings available. All units are available with refrigerants R410 or R134.
How We Are Better
Multi-Wing™ Variable Pitch Condenser Fan Blades
When you think variable pitch fan design most customers can be forgiven if they think of tunnel ventilation. We apply that same high tech fan design to our condensers. As standard, this produces a condenser fan that is more efficient and quieter than the typical stamped steel blade. The variable pitch increases the performance range of the condensers should onsite ambient conditions exceed design specs. The glass reinforced polymer blade will last much longer than steel.
Variable Speed Drives for Head Pressure Control
Controlling the condenser fans with a variable speed drive is more energy efficient than turning the fans off to control head pressure. The use of variable speed drives reflects our commitment to providing the best in custom design.
Maintenance Access
User friendly service access for components like compressors, liquid line filters, pressure switches and service valves is a primary design objective and those components are located outside the coil area for maintenance.
Condenser Guard
Condenser coil guards are another standard feature to provide protection for coils from weather related damages and vandalism.
All systems are charged with refrigerant and the system is tested in the factory prior to shipment. For split systems the unit will have to be charged on the job site. All electrical and temperature control systems including sensors and actuators are installed, wired and tested at the factory.
Evaporative Condensing DX Package Systems
Energy Labs offers a series of evaporative condensed custom DX package units, which can be configured to meet your air-conditioning application requirement.
Evaporative cooled units are available from 50 to 400 TONS. Larger sizes are available upon request.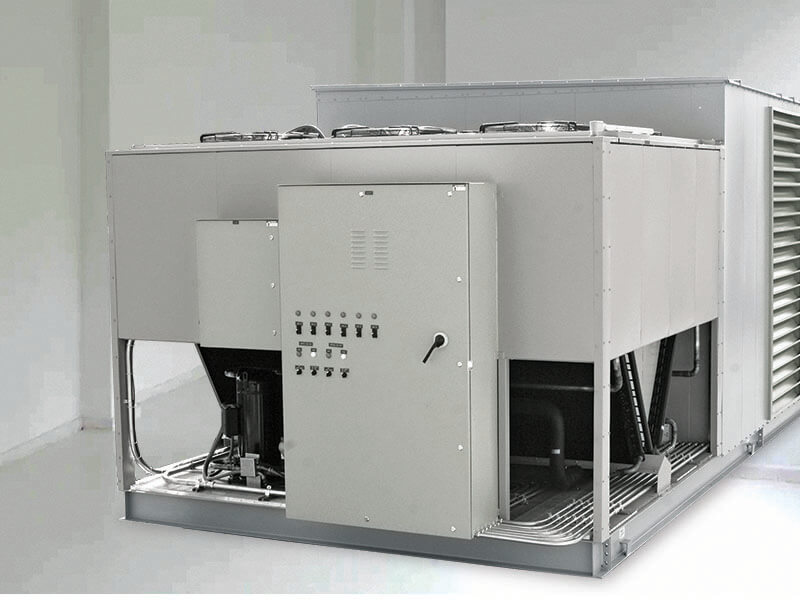 Evaporative Condenser
Standard sizes of evaporative-cooled condensers are available from 50 to 400 tons and custom sizes up to 1000 tons. Condenser coils are constructed of 5/8" O.D. copper tubing. The tubes are supported by high temperature glass-reinforced plastic tube sheets.
The spray system is designed to evenly distribute the water over the coil. Spray nozzles have large orifices with non-clogging design. Headers are schedule 80 PVC pipe. The recirculation pumps are close-coupled centrifugal type. The drift eliminators are PVC. Water sump and evaporative condenser casing is 16 gauge, 304 stainless steel which offers maximum protection against corrosion and increases the unit longevity.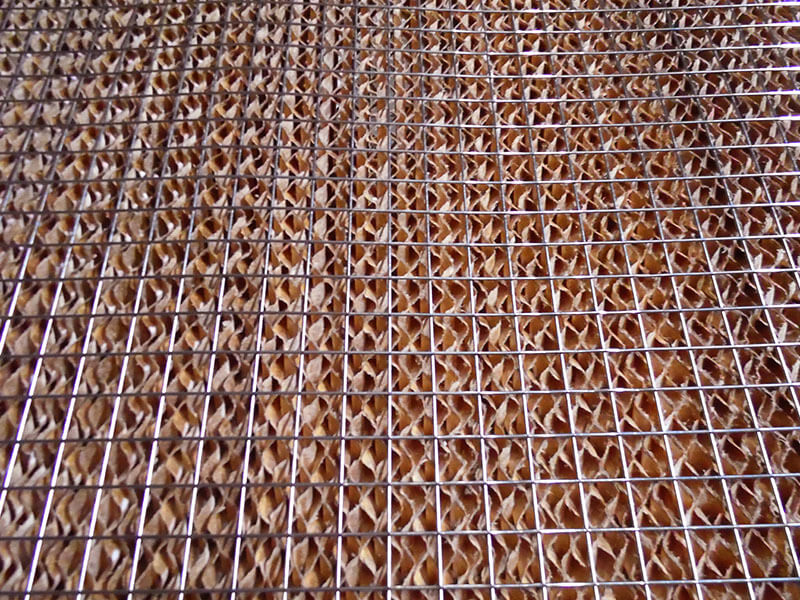 Condenser Fans
Direct-drive propeller fans are used to provide sufficient airflow through the coils. The fans have Venturi's for efficient performance.
On evaporative condenser, fan inlet ring and motor mounts are constructed of 304 stainless steel. Blades are made of industrial-quality polypropylene reinforced with fiberglass with a die cast-aluminum hub. Fans are statically and dynamically balanced. This construction ensures long life within the wet environment to which the fans are subject. Motors are rated for severe duty application.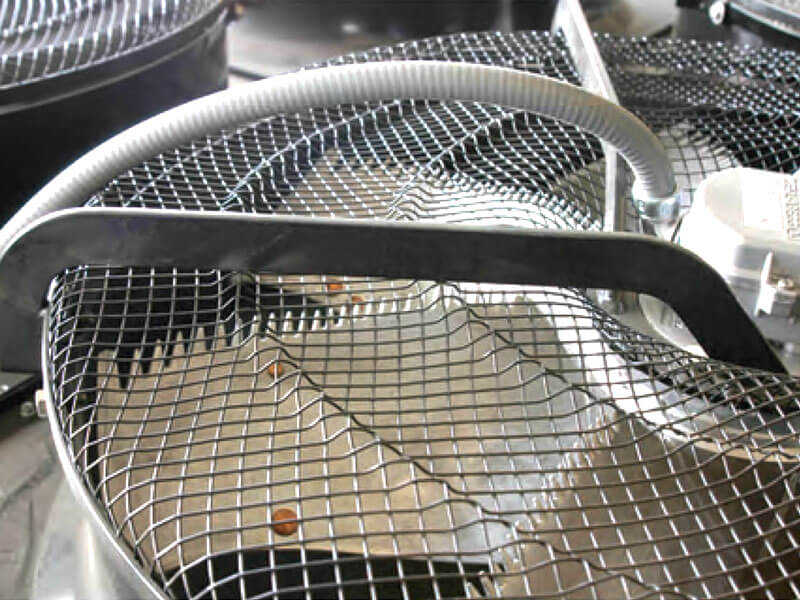 Mechanical Rooms & Compressors
Air-cooled and evaporative condensing units are available with either scrolls or screw compressors, depending on the project requirements.
On units with mechanical rooms, all compressors, electrical panels, and temperature control panels are located inside this room for maximum protection against weather with ample space for service and maintenance.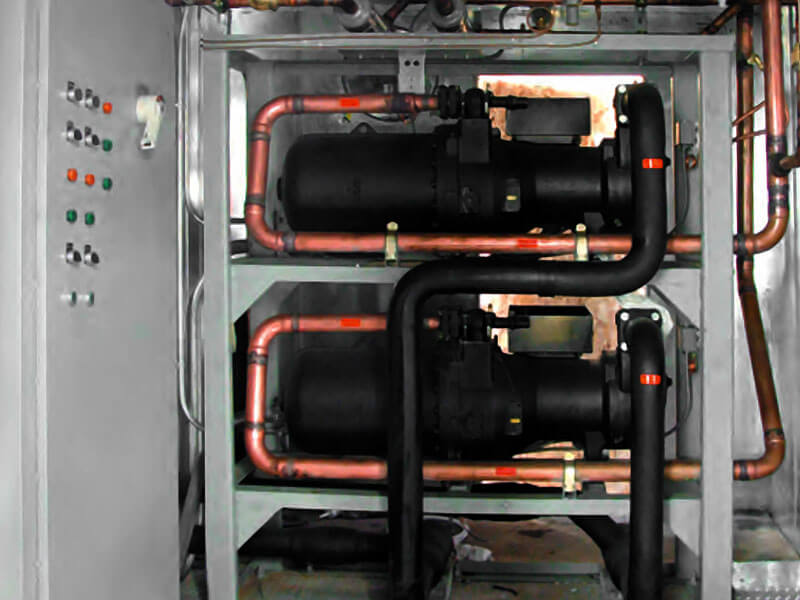 Never miss an offer
Join our mailing list to receive the latest product news and industry updates from Vertiv.