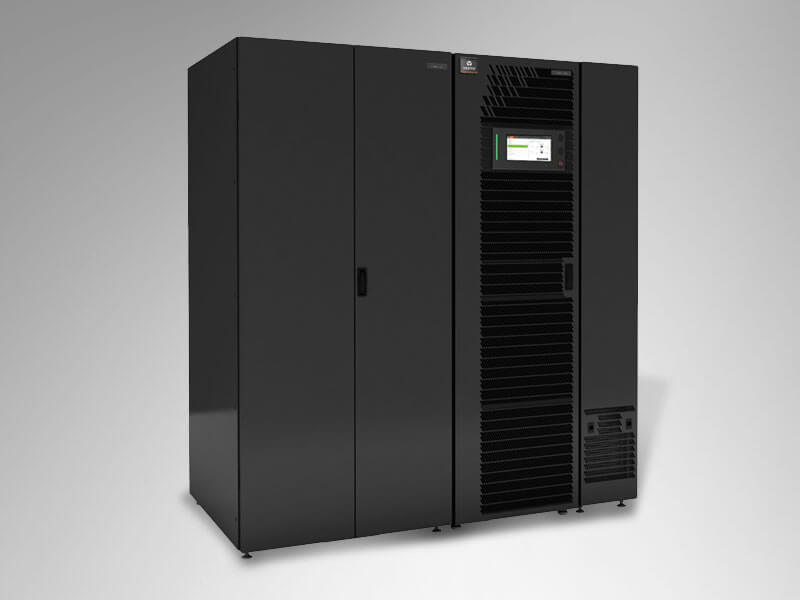 Modular design and touchscreen controls of Liebert® eXM UPS improve efficiency, flexibility and operational savings
Columbus, Ohio [July 11, 2016] – Emerson Network Power, a business of Emerson (NYSE: EMR) and the world's leading provider of critical infrastructure for information and communications technology systems, today introduced scalability for capacity or redundancy in all models of the Liebert® eXM uninterruptible power supply (UPS) system. The UPS, which also features a new touchscreen control panel, is ideal for IT spaces with medium power requirements looking to achieve lower first costs and ongoing operational savings, greater flexibility and shorter deployment schedules.
The 3-phase Liebert UPS, available in the Americas, now includes both the option of scalability or fixed capacities from 10kVA/kW to 250kVA/kW. Utilizing a modular construction design the Liebert UPS can scale in 20kW increments from 10-200kVA/kW in native 208V or 50kW in 50-250kVA/kW in native 480V. The ENERGY STAR® qualified Liebert UPS delivers among the highest efficiency levels for midsize data centers, with operating efficiencies as high as 97 percent in double-conversion mode and as high as 99 percent using energy-saving Eco Mode. Unity power factor operation delivers more capacity in a smaller footprint, increasing system capacity while minimizing cabling and installation costs.
"The Liebert eXM UPS combines economical ownership with the scalability, flexibility, intelligence and reliability that ensures optimal performance to power a range of critical loads," said Steve McKinney, vice president and general manager, power management and integrated modular solutions for Emerson Network Power. "Further flexibility and intelligence is provided by the new touchscreen control panel that enhances user control and situational awareness of the power system."
The touchscreen control panel will be a new feature on upcoming Liebert AC power UPS products as they are introduced to the market, ensuring a common experience for users interacting with the units. The "glove friendly" control panel provides intuitive operation that reduces the potential for user errors, and makes it easier to provide the right information to the right users. It offers an unprecedented level of customer configurations and viewing options and allows up to four windows of information to be viewed at once.
Users of the touchscreen control panel can change the type of information being displayed, as well as alarm and warning thresholds. The control panel provides greater physical security for the UPS by offering four different levels of user access – observer, operator, set up and service access.
The Liebert eXM UPS product line offers optimized ancillary cabinets such as battery, maintenance bypass, distribution, transformer and paralleling. Monitoring and service may be enhanced with Alber® battery monitoring, Emerson LIFE™ Services lifecycle management and centralized monitoring compatibility with the Trellis™ platform, Liebert Nform and Liebert SiteScan™. UL 924 certified models are available to support emergency lighting requirements
For more information on the Liebert eXM UPS, or other technologies and services from Emerson Network Power, please visit www.EmersonNetworkPower.com.
About Emerson Network Power
Emerson Network Power, a business of Emerson (NYSE:EMR), is the world's leading provider of critical infrastructure technologies and life cycle services for information and communications technology systems. With an expansive portfolio of intelligent, rapidly deployable hardware and software solutions for power, thermal and infrastructure management, Emerson Network Power enables efficient, highly-available networks. Learn more at www.EmersonNetworkPower.com.
About Emerson
Emerson (NYSE: EMR), based in St. Louis, Missouri (USA), is a global leader in bringing technology and engineering together to provide innovative solutions for customers in industrial, commercial and consumer markets around the world. The company is comprised of five business segments: Process Management, Industrial Automation, Network Power, Climate Technologies, and Commercial & Residential Solutions. Sales in fiscal 2015 were $22.3 billion. For more information, visit www.Emerson.com.
Media Contact:
Vince McMorrow
614-383-1622
Vince.McMorrow@Fahlgren.com
---