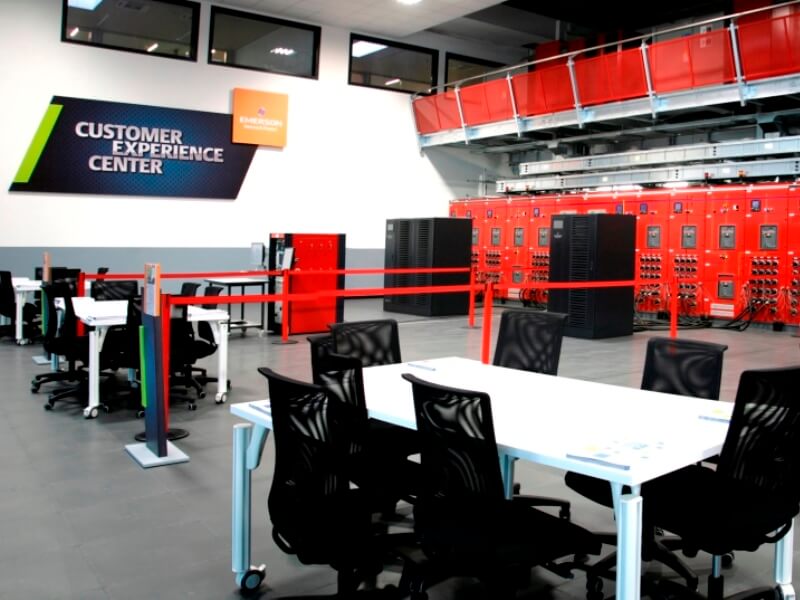 Next generation of Trinergy™ UPS previewed – an efficient, static solution targeted at large applications traditionally served by rotary UPS
Southampton, UK [November 7, 2013] – Emerson Network Power, a business of Emerson (NYSE: EMR) and the global leader in maximizing availability, capacity and efficiency of critical infrastructure, today announced the opening of a new state-of-the-art customer experience centre and logistics hub in Bologna, Italy. This creates the only facility in Europe that is purpose-built for the planning and validation of data centre infrastructure. Customers will benefit from an unprecedented level of collaboration as they work with Emerson Network Power to find the right solution for their business and technical needs.
The new customer experience centre reflects Emerson Network Power's commitment to offering a wide range of data centre solutions that address the increasingly complex nature of customer infrastructures. The facility will enable Emerson Network Power customers to experience first-hand a wide variety of technologies, supported by constant consultation from R&D and engineering specialists.
Customers visiting the centre will be able to witness pre-installation demonstrations, covering the technical performance, interoperability and efficiency of Emerson Uninterruptible Power Supply (UPS) systems under real field conditions. These processes can be experienced from the facility's control room, where real-time performance measurements and reporting will be available while providing full visibility of the demonstration area. The centre can host up to 750 witness testing events a year, and a simultaneous test at full load of up to 4000A – making it a unique facility within the EMEA region.
Technological innovation is a major focus for Emerson Network Power and this facility will feature the next generation of its Trinergy™ UPS systems – Trinergy Cube. Trinergy was the first UPS to combine all three industry standard functioning configurations in one solution, and the first high-power UPS with an adaptive algorithm that continually monitors the power supply and load conditions, automatically selecting the most efficient operating mode.
The new generation of Trinergy UPS is ideally suited to enterprise-scale data centre facilities, providing a highly efficient static solution targeted at large applications traditionally served by rotary UPS. Businesses can expect to see lower energy consumption, resulting in reduced CO2 emissions and lower energy costs as a result of Trinergy Cube's optimised efficiency at partial load conditions. The units offer enterprise-class UPS performance – with hot scalability up to 3MW, adaptability not available anywhere else in the market.
The new Trinergy Cube range has been designed using insights received through Emerson Network Power's in-depth customer relationships. Next generation Trinergy units will offer businesses enhanced capabilities for the reduction of their total cost of ownership, as a result of features including an average operational efficiency of 98.5 percent and a higher power density per core running up to 370kVA.
Customers will benefit from Trinergy Cube's flexible layout installations – allowing the UPS to be deployed in different sizes of data centre environments and across wider geographical regions. It is also the only UPS unit available in the market that enables hot swapping at these rating levels.
"Across EMEA, Emerson Network Power is highly focused on working collaboratively with customers to solve their technical and business challenges. Our new customer experience centre significantly enhances these relationships; it offers an unparalleled opportunity to experience the latest data centre technologies," said Franco Costa, vice president and general manager of the AC Power business for Emerson Network Power in EMEA. "We continue to deliver some of the most innovative data centre infrastructure products in the market. Our new generation of Trinergy UPS is testimony to this – we are committed to harnessing customer relationships, sharing knowledge, best practice and customer experiences in order to continually deliver industry-leading solutions."
The customer experience centre is part of Emerson Network Power's wider-reaching investment in its new logistics hub in Italy, which will also see all regional logistics managed from this central location. Reinforcing the quality of customer engagement within EMEA, Emerson Network Power is significantly developing its staff and distributor training Academy through a series of programmes, managed from the Academy's Bologna headquarters, and delivered across the EMEA region. This will ensure that Emerson Network Power's team continue to deliver the highest standards of technical excellence and support to meet customer needs.
For more information on Emerson Network Power's technologies or solutions from Emerson Network Power, visit www.EmersonNetworkPower.eu.
About Emerson Network Power
Emerson Network Power, a business of Emerson (NYSE: EMR), delivers software, hardware and services that maximize availability, capacity and efficiency for data centers, healthcare and industrial facilities. A trusted industry leader in smart infrastructure technologies, Emerson Network Power provides innovative data center infrastructure management solutions that bridge the gap between IT and facility management and deliver efficiency and uncompromised availability regardless of capacity demands. Our solutions are supported globally by local Emerson Network Power service technicians. Learn more about Emerson Network Power products and services at www.EmersonNetworkPower.eu.
About Emerson
Emerson (NYSE: EMR), based in St. Louis, Missouri (USA), is a global leader in bringing technology and engineering together to provide innovative solutions for customers in industrial, commercial, and consumer markets around the world. The company is comprised of five business segments: Process Management, Industrial Automation, Network Power, Climate Technologies, and Commercial & Residential Solutions. Sales in fiscal 2012 were $24.4 billion. For more information, visit www.Emerson.com.
Media Contact:
Sarah Hay
+44 (0) 20 7395 7016
HubEMEAEmerson@fleishmaneurope.com
---