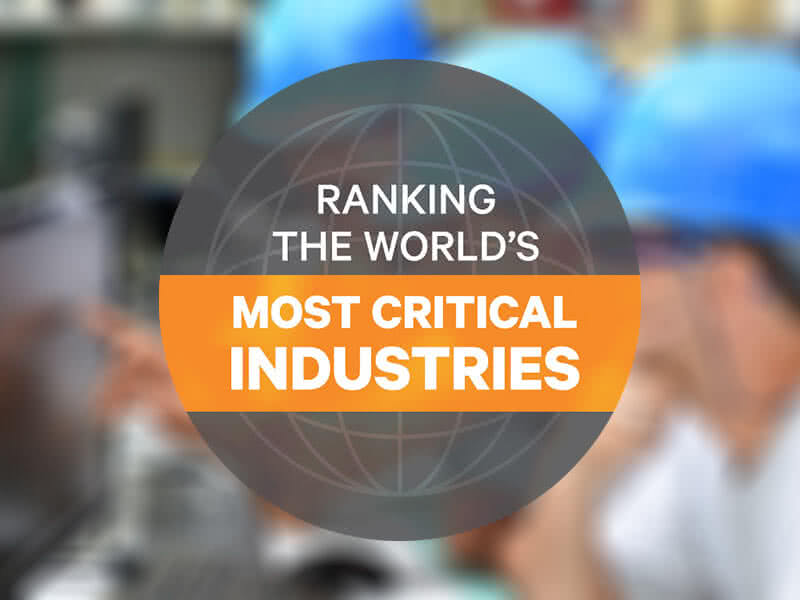 Nutsbedrijven, openbaar vervoer en telecom scoren hoog, cloud en colocatie stijgen
Breda [4 juli 2017] – Volgens de nieuwe classificatie van Vertiv, voorheen bekend als Emerson Network Power, behoren nutsbedrijven – zoals bedrijven gericht op elektriciteit, gas, kernenergie en waterbehandeling – tot de belangrijkste industrieën ter wereld. Vertiv verzamelde een aantal internationale experts op het gebied van bedrijfskritische infrastructuur om het belang van verschillende industrieën systematisch te kwantificeren en classificeren op basis van vijftien criteria. Openbaar vervoer, in het bijzonder spoor- en luchttransport, is nummer twee op de lijst, gevolgd door telecommunicatie, upstream olie- en gasactiviteiten en cloud en colocatie. De volledige lijst is te vinden in een nieuw rapport, Ranking the World's Most Critical Industries, dat vanaf vandaag beschikbaar is op www.VertivCo.com/MostCritical-nl.
Het panel stelde criteria op voor wat betreft de potentiële impact van het verlies van beschikbaarheid van bedrijfskritische systemen en woog deze op basis van de ernst van de impact. Op basis van deze criteria werd een overzicht van relevantie gecreëerd dat het panel gebruikte voor het toekennen van punten aan de industrieën. De verschillende sectoren werden vervolgens geclassificeerd op basis van hun gemiddelde scores.
"Als er een ding opvalt aan deze lijst, dan is het wel de verwevenheid van de hoogst genoteerde industrieën", aldus Jack Pouchet, vicepresident market development bij Vertiv. "Deze sectoren vormen een belangrijke basis voor onze huidige samenleving en downtime binnen een van deze gebieden kan invloed hebben op andere industrieën over de hele wereld. Deze trend zal zich alleen maar voortzetten nu onze wereld steeds mobieler en meer verbonden wordt en het Internet of Things zich blijft uitbreiden."
Schone energie en water zijn belangrijke behoeften binnen een ontwikkelde samenleving en ondersteunen de meeste andere industrieën en diensten, waardoor nutsbedrijven de belangrijkste industrie vormen in de lijst. Openbaar vervoer volgt op nummer twee, waarbij panelleden niet alleen de veiligheid van reizigers onderstrepen, maar ook de grote impact van vertragingen en verstoringen op bedrijven, markten en de hele wereld. Dat telecommunicatie op nummer drie staat, benadrukt het belang van communicatie en connectiviteit voor persoonlijke en zakelijke activiteiten en noodsituaties.
De financiële-dienstensector staat bovenaan als het gaat om industrieën die de grootste financiële impact hebben in het geval van ongeplande downtime. E-commerce staat hierbij op de tweede plek, gevolgd door cloud en colocatie. Cloud en colocatie staan ook op de vijfde plek in de algemene lijst van belangrijkste industrieën, omdat steeds meer verschillende bedrijfstakken afhankelijk zijn van deze platformen. Het panel ziet cloud en colocatie ook als snel opkomende industrieën waarvan het belang steeds verder toeneemt.
"De cloud, die wordt aangedreven door hyperscale- en colocatiedatacenters, wordt steeds belangrijker gezien het toenemende aantal apparaten en bedrijven dat op dit platform vertrouwt om te kunnen presteren", zegt panellid Emiliano Cevenini, vicepresident Power Sales en Business Development voor Vertiv in Europa, het Midden-Oosten en Afrika. "Wij verwachten dat deze trend zich in de nabije toekomst zal voortzetten, omdat de IoT-netwerken van industrieën en smart cities de cloud als hét platform willen gaan gebruiken als basis voor hun technologie."
De volledige lijst met belangrijke industrieën evenals de analyse van de specifieke categorieën, opkomende industrieën en de methodiek achter de classificatie vindt u in het rapport Ranking the World's Most Critical Industries. Om te zien waar andere industrieën staan op de lijst, kunt u de Criticality Calculator gebruiken. Voor meer informatie over technologieën en oplossingen om de beschikbaarheid van het netwerk te waarborgen en voor extra informatie van Vertiv, gaat u naar www.VertivCo.com/MostCritical-nl.
Over Vertiv
Vertiv ontwerpt, bouwt en onderhoudt bedrijfskritische infrastructuur voor essentiële toepassingen in datacenters, communicatienetwerken en commerciële en industriële faciliteiten. Vertiv, voorheen bekend als Emerson Network Power, ondersteunt de groeiende mobiele en cloudcomputing-markt met een portfolio van stroom-, koelings- en infrastructuurbeheeroplossingen met de merken ASCO®, Chloride®, Liebert®, NetSure™ en Trellis™. De omzet in het boekjaar 2016 bedroeg $ 4,4 mld. Ga voor meer informatie naar VertivCo.com.
MEDIACONTACT
LVTPR
Eline Alberts / Marcel Klein
T +31 (0)30 65 65 070
E vertiv@lvtpr.com
---