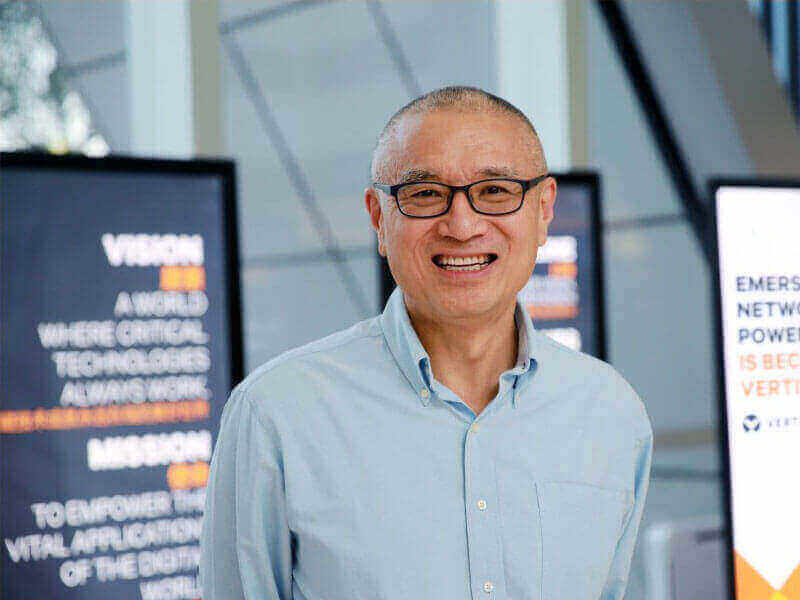 Today with fruitful results we usher in the promising 2017. On behalf of the Emerson Network Power China team, I would like to extend my sincere thanks to all the friends who have supported and helped Emerson Network Power for the past year. We sincerely wish you a Happy New Year and a happy family.
今天,我们满载着丰硕的成果迎来了充满希望的2017年。我谨代表艾默生网络能源中国团队向过去一年来为艾默生网络能源的发展提供支持和帮助的各方朋友表示最诚挚的感谢,衷心祝愿大家新年愉快、阖家幸福!
Looking back at the 2016, core markets such as communications, data center, industrial and Internet of Things continue to grow rapidly, driven by advanced technologies such as cloud computing, large data and artificial intelligence, and the areas of applications and the regions are expanding. With our deep background in the industry, we seize opportunities, focus on the general strategy, simplify our management and actively respond to the needs of customer. As a result, we've achieved the desired growth target, expanded the application of our products and solutions and had sound growth in the various markets we play in.
回望过去的2016年,在云计算、大数据、人工智能等先进技术的带动下,通信、数据中心、工业、物联网等核心市场继续保持了快速的增长态势,应用领域和区域也不断扩展。我们凭借深厚的行业背景,抓住机遇,坚持聚焦整体战略、简化管理,积极响应客户需求,圆满实现了预期的增长目标,产品及解决方案的应用范围得到了更大拓展,并在各个市场上均实现了良好的增长。
In the coming new year we plan to carry out the transition from Emerson Network Power to Vertiv and we will officially launch Vertiv China in the middle of the year, ushering in a new era of development. We invite you to work with us to create a beautiful new age where critical technologies always work.
我们计划在新的一年里,开展艾默生网络能源向Vertiv的过渡工作,并将于今年年中,正式向您推出Vertiv中国。发展的新纪元就此开启,我们邀请您一起共同创造一个关键技术成就永远在线的美好新时代。
Vertiv China will have an unparalleled core advantage, as it is able to leverage global resources to ensure that the most advanced technology is introduced into local products and business processes. This is also combined with Vertiv China's strong strength in R & D, manufacturing and service. Vertiv China shall make continuous investment in technological innovation and we have over 30 service offices with more than 1200 professional customer engineers to serve you and your business. In the future, Vertiv China will develop its business at a faster pace, show more efficiency in market decision-making, in responses to market and customer demand, and maximally unleash the potential value while grasping market opportunities and improving operation efficiency.
Vertiv中国将拥有一个无与伦比的核心优势,那就是能够出色地运用全球资源,来确保将最先进的技术引入到本地的产品和业务流程中,同时结合Vertiv中国强大的研发、制造、服务的实力,在技术创新上的不断投入、在全国超过30个的用户服务中心、超过1200人的专业服务团队服务于您和您的企业。未来,Vertiv中国将以更快的速度发展自身的业务,在市场决策、反应及客户需求响应上呈现出更高效率,在把握市场机会、提高运作效率上最大化地释放潜在价值。
Looking forward to 2017, it will be the first year that the company opens a new chapter. We will vigorously promote Vertiv China to get to a new height of development. Vertiv China will continue to be customer-centric and focused on the demand. It will keep innovating and help resolve customer's critical issues with high quality products, solutions and services while maximally enhancing the customer value. At the same time we will attract more partners to join us as we further adjust, optimize our market strategy and channel system, empower the channels and improve channels' comprehensive strength and potential.
展望2017年,是公司掀开新历史篇章的第一年,我们将全力推动Vertiv中国步入新的发展高峰。Vertiv中国将继续坚持以客户为核心,专注需求,不断创新,以高品质的产品、解决方案及服务帮助客户解决关键问题,并最大化提升客户价值。同时,将吸引更多的伙伴加入我们的阵营,并进一步调整、优化市场策略和营销渠道,关注渠道赋能,提升其综合实力与发展潜力。
At the start of our new chapter, each one of us shall work together with our partners to fulfill our responsibilities to develop the company and create a bright future through being customer-centric, taking ownership and being conscientious, being united and working as a team.
站在新的起点上,我们团队的每一位成员都将和合作伙伴们一起以客户为本、专业尽职、团结一心、通力协作,肩负起公司发展的重任,共创美好的未来。
At last once again I wish you happy and healthy in the new year!
最后,再次祝大家在新的一年里身体健康、万事如意!
Stephen Liang
President, Asia Pacific
Vertiv
Jan 1st 2017
---