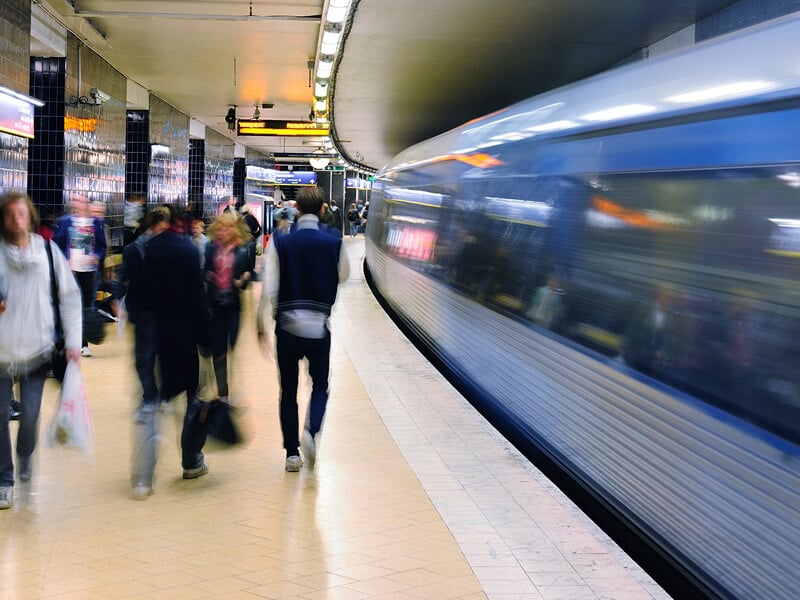 Технологические и демографические сдвиги требуют перемен
По самым скромным подсчетам, к концу столетия численность населения нашей планеты увеличится еще на 3 миллиарда человек. Добавьте к этому тот факт, что доля городских жителей в общей численности населения вырастет с 11 % до 23 %.
«Старой гвардии» такое не под силу
Учитывая вышесказанное, нетрудно сделать вывод, что традиционные технологии, применяемые в железнодорожной, автодорожной, воздушной и морской транспортной инфраструктуре, волей-неволей приходится заменять более высокотехнологичными решениями, чтобы идти в ногу со временем и удовлетворять растущие потребности городского населения в транспортных услугах.
Современный потребитель привык рассчитывать на слаженное и бесперебойное транспортное сообщение, позволяющее заранее планировать поездки с помощью приложений. В таких городах, как Мюнхен, можно с помощью одного приложения распланировать поездку, сочетающую в себе езду на велосипеде, общественном транспорте, частном автомобиле и такси Uber. И это только начало.
Собственный автомобиль – пережиток прошлого
Забегая на 10 лет вперед, можно представить такую картину: беспилотные транспортные средства курсируют по улицам, подбирая и высаживая пассажиров, что существенно снижает потребность в личном автотранспорте, сокращает количество пробок и экономит время.
При явных преимуществах для потребителей, такое развитие ставит колоссальные задачи перед транзитными сетями. При внедрении технологии, являющейся (в буквальном смысле) движущей силой транспортных средств, первостепенное значение имеют надежность и безопасность обслуживания, то есть доступность и безопасность сетей.
В этом сценарии есть ряд постоянных. Ключевым аспектом является постоянная эксплуатационная готовность. Она достигается такими средствами, как резервирование, позволяющее легко контролировать сеть, диагностировать и устранять неполадки, и установка источников бесперебойного питания для всего электрооборудования, используемого для предоставления услуг.
Добро пожаловать на борт
Реселлеры получают доселе невиданные возможности участия в процессе преобразования транспортных сетей. Компания Vertiv (ранее известная под названием Emerson Network Power) обладает достаточным опытом в данной сфере.
В рамках общего консультативного подхода мы поможем вам извлечь дополнительную выгоду от нашей технологии дистанционного управления ИБП и ИТ-оборудованием.
Technology and population shift demand change

By the end of this century, conservative estimates of population growth mean we will add about another 3 billion people to the planet. Add to this the fact that city population will increase from 11% of total population to about 23%.

The Old Guard won't cut it

It's then not hard to see why the traditional technology of rail, road, air, and sea transport networks is being forced to become more technology defined to keep pace with growing populations in cities, requiring increasingly more mobility.

Consumers now expect a largely seamless, app driven, delivery on transport options. Take cities like Munich where from one app, you can configure one trip consisting of bike, public transport, city car hire and Uber taxi. And this is only the starting point.

Car ownership a thing of the past

Fast forward 10 years when autonomous vehicles will roam the streets collecting and dropping off passengers, massively reducing the need for individual car ownership and in turn congestion and time wasted.

The benefits to the consumers are clear, the challenges faced by the transit networks are immense. Reliability and Safety of service is paramount, as is accessibility and security of networks when you introduce technology being (quite literally) the driving force of vehicles.

There are a number of constants within this scenario. One key aspect is constant availability. Whether this be from the point of view of a network that has redundancy and can be easy to monitor diagnose and fix, through to the power protection of Uninterruptable Power Supplies for all the technology providing the service.
VARs have a bigger than ever opportunity to become part of the transformation conversation with transport networks.
---