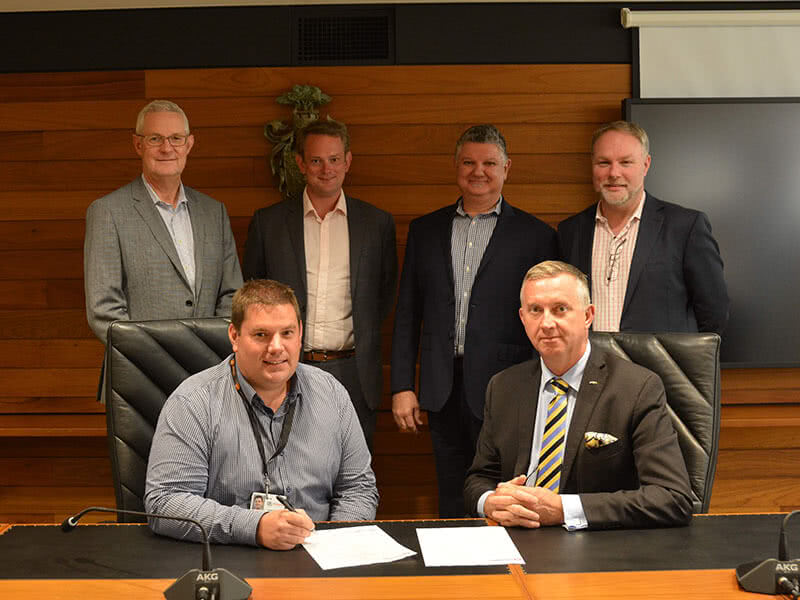 (Left to Right) Front: Glynn Henderson, CIO, Redland City Council, William Osborne, Managing Director, Resolute IT. Rear: Andrew Chase, Key Account Manager, Philips Lighting, Robert Linsdell, Managing Director Australia and New Zealand, Vertiv, Ian Dempsey, Business Development Manager, Resolute IT, Tony Pantano, Sales Engineer, Vertiv, Daniel Sargent, National Partner Manager, Vertiv
Sydney, Australia [June 1, 2017] – Redland City Council will reduce the risk of weather-related outages, increase energy efficiency, free up office space and gain higher performance across its IT environment through a new modular data centre from Vertiv, formerly Emerson Network Power.
The solution will be implemented in a purpose-built facility elevated to put it out of harm's way from weather events, which typically cause IT outages once or twice per year in the region. If the Council is affected, these outages can leave Redland's 150,000 citizens unable to access services such as utilities, animal management and libraries.
The move to the Vertiv containerised modular data centre will free up between 150-200sqm of space within the Council previously taken up by its legacy data centres, allowing it to create more open work spaces and bring teams within the Council closer together.
The Council will also reduce its carbon footprint and save costs with the move. The new data centre will save up to 40 percent in electricity costs, bolstered further by solar panels that will be fitted to the facility housing the data centre in the future. The solution will also add increased security and resiliency.
The new data centre will condense the Council's IT infrastructure into a 10-rack unit that will help meet increasing demand for secure, powerful facilities to host critical IT infrastructure supporting a range of applications.
"We're capitalising as much as we can from this move," said Glynn Henderson, chief information officer, Redland City Council. "Outsourcing the management of our data centre will enable our team to start focusing on smart city initiatives, which is something we're building towards."
"We haven't defined what that's going to mean exactly yet, but we're looking at IoT, how we can make our utilities management systems smart and innovation hubs to support entrepreneurs and small businesses in the community," adds Henderson.
The implementation will take place in June and be completed with the assistance of Vertiv and Redland City partner Resolute IT. The design will include a partitioned wall between the modular data centre and additional space in the facility – this can easily be taken down or adjusted as the Council needs to scale up its infrastructure as it rolls out smart city initiatives.
"There's plenty of hype about smart cities, and IoT but it's important to consider what infrastructure you need to pull that off," said Robert Linsdell, managing director for Australia and New Zealand, Vertiv. "You need something scalable, secure, robust and with as little risk of outage as possible. Redland City understands this, and they're taking the steps now to make sure they can do the exciting part in the right way later."
"This is the third modular data centre deployment we'll be working on with Vertiv," said Bill Osborne, managing director, Resolute IT. "We like to see ourselves as the Vertiv partner to the local government sector, and it's proving true so far. Customers – both in regional and high-density areas – are particularly drawn by the scalability and the fact that we can make the design bespoke to what they need."
About Vertiv
Vertiv designs, builds and services critical infrastructure that enables vital applications for data centres, communication networks and commercial and industrial facilities. Formerly Emerson Network Power, Vertiv supports today's growing mobile and cloud computing markets with a portfolio of power, thermal and infrastructure management solutions including the ASCO®, Chloride®, Liebert®, NetSure™ and Trellis™ brands. Sales in fiscal 2016 were $4.4 billion. For more information, visit VertivCo.com.
CONTACT
Jacqueline Hart
Vertiv
T +612 9805 9510
E jacqueline.hart@vertivco.com
Oisin O'Callaghan
Watterson
T +61 2 9929 7533
E oisin.ocallaghan@watterson.com.au
---