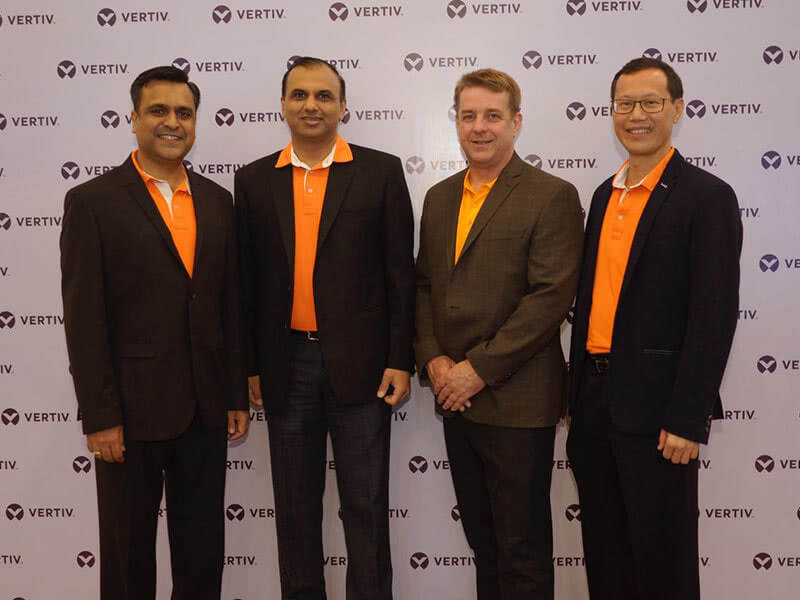 From L-R: Anand Sanghi, President, Asia; Hitesh Prajapati, Country Manager, Malaysia; Paul Churchill, VP, SEA; and Chee Hoe Ling, VP, Products & Solution & Marketing, Asia at the Vertiv launch event in Malaysia.
Kuala Lumpur, Malaysia [January 17, 2017] – Vertiv™, formerly Emerson Network Power, today officially launched under its new branding in Malaysia, eyeing new opportunities brought by emerging technology trends in the region. Vertiv is the new name, but the company is still an established global industry leader. It's a trusted partner for the operators in data centers, communication networks and commercial and industrial facilities, and one with newfound speed, focus and flexibility as a standalone company.
Headquartered in Petaling Jaya, Vertiv in Malaysia will build on the broad portfolio of product and service offerings for power, thermal and IT management capabilities it previously offered as Emerson Network Power, including its industry-leading flagship brands ASCO®, Chloride®, Liebert®, NetSure™ and Trellis™. This follows the global campaign to rebrand Vertiv as a standalone company, after the completion of the sale to Platinum Equity.
Speaking on the rebrand, Hitesh Prajapati, country manager, Malaysia, Vertiv, said: "This is a momentous year for us as we transform to an independent company and the world's largest standalone provider of mission-critical technologies for data centers, communication networks and commercial and industrial environments. Last year, we celebrated 30 years of doing business in Malaysia as Network Power and now that we are Vertiv, we will continue to build on the unmatched legacy we've established. If anything, this name change only signifies our strong commitment to continue to provide best-in-class solutions and services to our customers in Malaysia."
As Vertiv, Prajapati said the company will sharpen the focus on serving the growing infrastructure opportunities in the telecom, manufacturing and transportation industries. In addition, Vertiv will continue to work with the financial institutions and government in supporting their digitization initiatives.
"We are seeing tremendous growth opportunities as businesses continue to modernize and improve their IT infrastructure. Converged solutions for edge of network deployments Data Center Infrastructure Management (DCIM) are generating tremendous interest from ICT decision makers. We are working closely with several organizations to help them optimize their aging data center infrastructure through our Data Center Optimization solutions. We look forward to continue bringing more and more of our innovative solutions to the Malaysia market in the near future," he said.
Anand Sanghi, president, Asia, Vertiv, said of the re-launch: "Asia is and will continue to be a key market for us. We have a rich and proud history here and with Vertiv, we look forward to serving our customers with greater agility and focus. Our deep understanding of data centers, communication networks, and industrial and commercial facilities coupled with our innovative products, solutions and service network sets us apart as Vertiv."
"We recently unveiled our top data center trends predictions for 2017 and in that we see increasing focus being placed on the critical infrastructure as a globally connected, always on, mobile and social world is rapidly transforming how consumers and businesses interact and transact. Edge computing, the Industrial Internet of Things (IIoT), and data center sustainability and efficiency will all require the right technology and services in place. This will be our goal as Vertiv: to help companies achieve a world where critical technologies always work," Sanghi said.
For more information, visit www.VertivCo.com.
About Vertiv
Vertiv designs, builds and services critical infrastructure that enables vital applications for data centers, communication networks and commercial and industrial facilities. Formerly Emerson Network Power, Vertiv supports today's growing mobile and cloud computing markets with a portfolio of power, thermal and infrastructure management solutions including the ASCO®, Chloride®, Liebert®, NetSure™ and Trellis™ brands. Sales in fiscal 2016 were $4.4 billion. For more information, visit VertivCo.com.
CONTACT
Katrina Tirante
T +6326203600 Ext 7666
E Katrina.Tirante@vertivco.com
Reinier Dungca
T +6326203600 Ext 7657
E Reinier.Dungca@vertivco.com
---