Gniazdo uniwersalne C13/C19 to rozwiązanie 2 w 1, które łączy funkcję gniazda C13 i C19. Usprawnij proces zamawiania listwy zasilającej PDU i dostosuj się do ciągle zmieniających się wymagań zasilania w szafie dzięki możliwości podłączenia wtyczek C14 i C20 do tego samego gniazda. Eliminuje konieczność określania w momencie zakupu liczby gniazd C13 i C19 na podstawie wymagań zasilania sprzętu. Każde gniazdo listwy zasilającej rPDU to gniazdo kombinowane C13/C19, zapewniające elastyczność w zakresie obecnych i przyszłych potrzeb zasilania szafy aparaturowej.
Właściwości i korzyści
Wysoki poziom styku
Duża siła styku gniazd ogranicza ryzyko kosztownych przestojów spowodowanych przypadkowym odłączeniem przewodu zasilającego. Gniazdo uniwersalne C13/C19 jest również kompatybilne z blokadą P-Lock, która zapewnia dodatkową ochronę.
Elastyczne zarządzanie kablami
Gniazdo uniwersalne C13/19 upraszcza zarządzanie kablami. Wystarczy podłączyć sprzęt do najbliższego dostępnego gniazda.
Prosta identyfikacja obwodu
Łatwa identyfikacja obwodów dzięki kolorowym oznaczeniom blokady P-Lock. Usprawnia równoważenie obwodu i faz dzięki gniazdom uniwersalnym.
Uproszczone zamawianie
Wybierz preferowaną konfigurację zasilania i zyskaj pewność, że listwa zasilająca rPDU będzie posiadać odpowiednią kombinację gniazd dla urządzeń montowanych w szafie, wyposażonych we wtyczek typu C14 i C20.
Globalna zgodność
Gniazdo uniwersalne C13/C19 spełnia globalne wymagania dotyczące zgodności z przepisami elektrycznymi i posiada certyfikat UL oraz oznaczenie CE.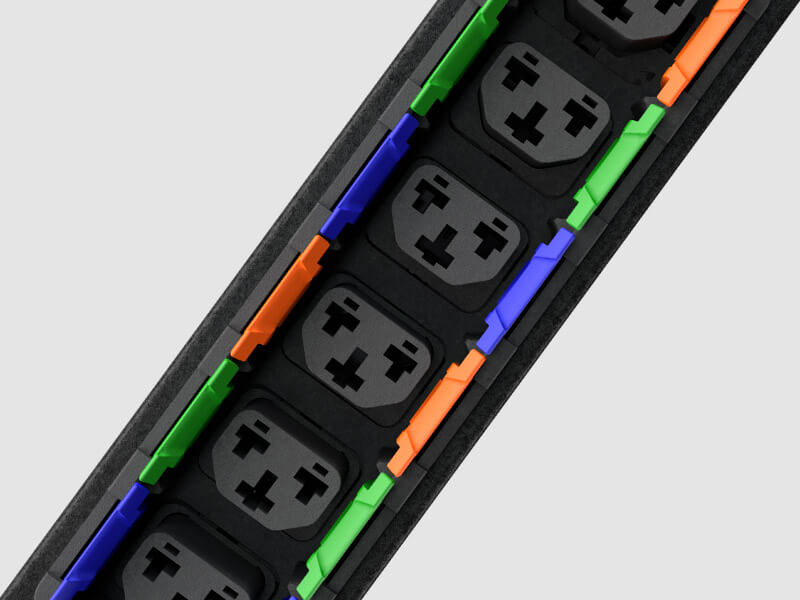 Wybierz uniwersalną jednostkę rozdziału zasilania Vertiv Geist UPDU z uniwersalnym gniazdem C13/C19 i zapewnij najwyższy poziom elastyczności zasilania szafy dzięki spełnieniu bieżących wymagań oraz podczas wymiany lub zmian w sprzęcie w przyszłości.
Selektor rPDU Finder na stronie internetowej Vertiv.com zawiera pełen wykaz modeli listew zasilających do montażu w szafie z gniazdem uniwersalnym C13/C19.
---