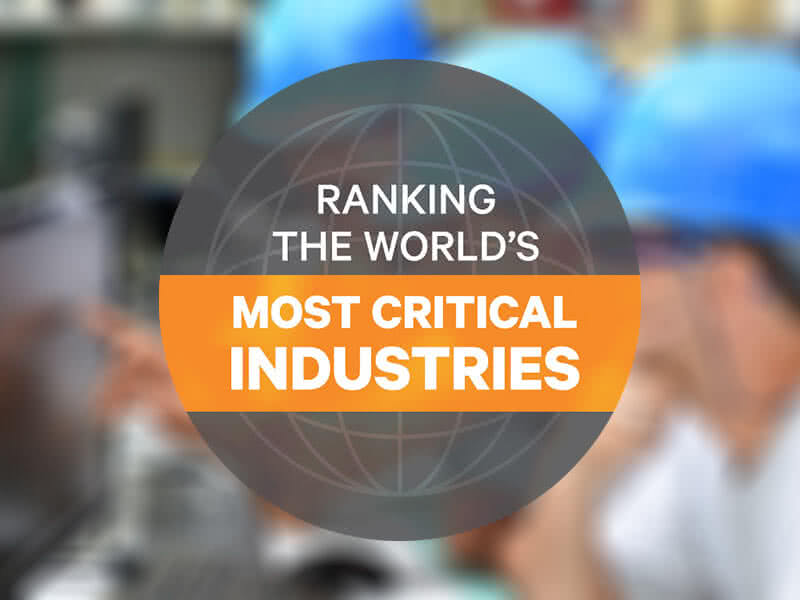 Usługi użyteczności publicznej, transport masowy, telekomunikacja zajmują najwyższe pozycje w rankingu, usługi chmurowe i kolokacyjne na miejscu piątym z prawdopodobieństwem zajęcia wyższych pozycji w przyszłości
Warszawa, Polska [27 czerwca, 2017] – usługi użyteczności publicznej, w tym energia elektryczna, gaz, energia jądrowa i uzdatnianie wody, są strategicznymi gałęziami przemysłu w ujęciu globalnym według nowego rankingu firmy Vertiv, znanej poprzednio jako Emerson Network Power. Vertiv powołał panel ekspertów z dziedziny infrastruktury krytycznej, aby usystematyzować i ocenić znaczenie wielu branż na podstawie 15 kryteriów. Transport masowy – w szczególności kolejowy i lotniczy – zajął drugą pozycję na liście, a zaraz po nim znalazły się telekomunikacja, wydobycie ropy naftowej i gazu, a także usługi chmurowe i kolokacyjne. Pełna lista jest dostępna w nowym raporcie, Ranking the World's Most Critical Industries (Ranking branż o znaczeniu strategicznym na świecie), opublikowanym i udostępnionym dzisiaj na stronie www.VertivCo.com/MostCritical.
Zespół ekspertów ustanowił kryteria obejmujące szereg możliwych skutków utraty dostępności systemów krytycznych i nadał im wagę, w oparciu o siłę oddziaływania. Kryteria te służyły następnie do utworzenia rubryki znaczenia strategicznego, stanowiącej punkt wyjścia dla stworzenia rankingu branż, w którym branże zostały poddane ewaluacji według swojej średniej oceny.
"To, co łączy branże z najwyższych pozycji naszego rankingu to wzajemne powiązania i zależności między nimi.", powiedział Jack Pouchet, wiceprezes ds. rozwoju rynku w firmie Vertiv. "Przeanalizowane przez nas sektory są ważną podstawą funkcjonowania dzisiejszego społeczeństwa, a utrata ciągłości działania w którymkolwiek z tych obszarów może mieć szerokie skutki w różnych branżach na całym świecie. Stan ten będzie się nasilał, ponieważ nasz świat rozwija się w kierunku coraz większej mobilności i łączności, a Internet Rzeczy obejmuje coraz to nowe przedmioty powszechnego użytku".
Czysta energia i woda to podstawowe potrzeby rozwiniętego społeczeństwa. Stanowią one równocześnie podstawę większości gałęzi przemysłu, co sprawia, że usługi użyteczności publicznej zdecydowanie są branżą najbardziej strategiczną. Na drugim miejscu znalazł się transport masowy, gdzie uczestnicy panelu mówili o negatywnym wpływie opóźnień i zakłóceń w kontekście nie tylko bezpieczeństwa podróżnych, lecz także wpływu na zróżnicowane firmy i rynki w ujęciu globalnym. Pozycja numer 3 w rankingu przyznana branży telekomunikacyjnej odzwierciedla znaczenie komunikacji i łączności w działaniach osobistych i biznesowych oraz w sytuacjach awaryjnych.
Usługi finansowe zajęły najwyższe miejsce na liście branż o najwyższym zagrożeniu stratami finansowymi w przypadku wystąpienia nieplanowanych przestojów. Handel elektroniczny był drugi, a następnie usługi chmurowe i kolokacyjne, które zajęły również piątą pozycję na liście strategicznych branż ze względu na rosnącą zależność wielu firm od tych platform. Panel uznał również usługi kolokacyjne i chmurowe za jedne z kilku szybko rozwijających się gałęzi przemysłu, które nabierają coraz większego znaczenia.
"Znaczenie chmury obliczeniowej zasilanej przez centra danych typu hyperscale oraz centra kolokacyjne staje się coraz bardziej kluczowe, ze względu na zależność nieustannie zwiększającej się liczby urządzeń i procesów firm od tej technologii" - podsumował Emiliano Cevenini, wiceprezes ds. sprzedaży rozwiązań z zakresu zasilania i rozwoju biznesu firmy Vertiv w regionie EMEA."Spodziewamy się, że w najbliższej przyszłości ten trend będzie w dalszym ciągu się rozwijał, ponieważ sieci IoT (Internet of Things, Internet Rzeczy) służące wielu branżom i inteligentnym miastom wykorzystują chmurę obliczeniową, jako jedną z platform leżącą u podstaw ich własnej technologii.
Pełna lista strategicznych branż, a także analiza konkretnych kategorii, branż wschodzących i metodologii rankingu są dostępne w raporcie, Ranking the World's Most Critical Industries (Ranking branż o znaczeniu strategicznym na świecie) . Aby zobaczyć, jaką pozycję zajęły inne branże, użyj Kalkulatora Znaczenia Strategicznego. Więcej informacji na temat technologii i rozwiązań zapewniających dostępność sieci oraz dodatkowe materiały firmy Vertiv można znaleźć pod adresem www.VertivCo.com/MostCritical.
O firmie Vertiv
Firma Vertiv projektuje, tworzy i udostępnia w formie usług infrastrukturę o znaczeniu krytycznym dla kluczowych systemów i aplikacji w centrach danych, sieciach komunikacyjnych oraz w zakładach handlowych i przemysłowych. Firma Vertiv, wcześniej znana jako Emerson Network Power, oferuje wsparcie rozwijających się rynków technologii mobilnych i chmurowych dzięki szerokiej gamie systemów do zarządzania energią, systemów klimatyzacji precyzyjnej oraz rozwiązań do zarządzania infrastrukturą. Portfolio firmy Vertiv obejmuje rozwiązania takich marek jak ASCO®, Chloride®, Liebert®, NetSure™ i Trellis™. Sprzedaż w roku fiskalnym 2016 osiągnęła 4,4 mld USD. Więcej informacji można znaleźć na stronie VertivCo.com.
KONTAKT
Vince McMorrow
Telefon: +614 383 1622
E-mail: Vince.McMorrow@Fahlgren.com
---