Recognition achieved across the globe for Vertiv's innovative data centre solutions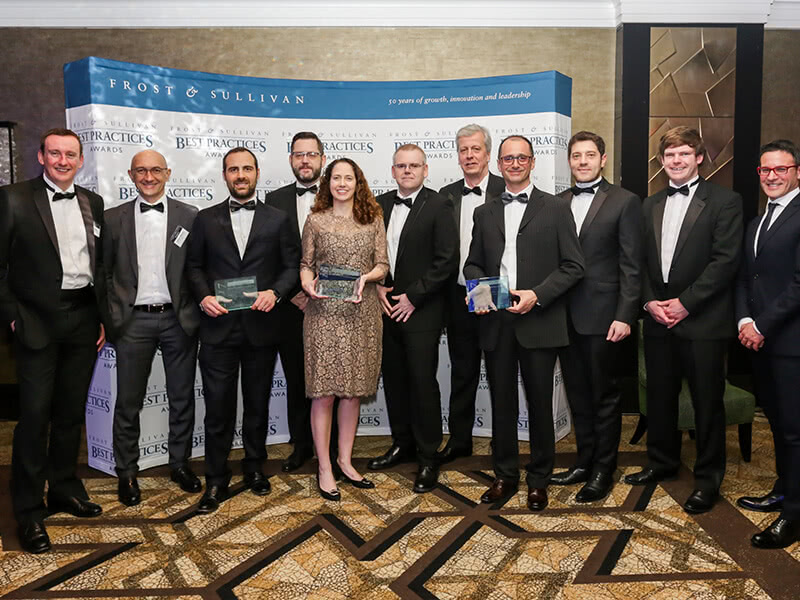 London, UK (March 15, 2017) – Vertiv, formerly Emerson Network Power, today announced that it has been awarded the 2017 EMEA Product Leadership Awards both for the UPS and Data Centre Cooling categories. Based on its independent analysis of the data centre market, Frost & Sullivan recognised Vertiv's unique edge in a highly competitive marketplace. Its strong R&D culture, extensive intellectual property and customer feedback-driven initiatives have helped Vertiv identify and resolve current and future industry pain points.
Excellence in Thermal Management
Vertiv possesses the widest and most comprehensive range of data centre cooling products in the EMEA region, and each product boasts value-added features and functionalities. Over the past 18 months, Vertiv has launched 10 cooling products specifically addressing technical performance and ease of use. By continuously enriching its portfolio through new launches and enhancements, Vertiv has been able to keep pace with rapidly evolving customer needs.
"Vertiv continues to exert its leadership position by yet again proving its excellence in innovation and product positioning, resulting in positive customer impact. Our independent analysis highlighted how the company has firmly secured its place as a front runner and product leader in the EMEA cooling industry," said Frost & Sullivan senior industry analyst Gautham Gnanajothi. "Vertiv's strong R&D culture combined with extensive intellectual property has enabled the company to truly demonstrate product differentiation, ultimately providing it with a unique edge in a highly competitive market."
Leading in Critical Power
Following its analysis of the increasingly competitive uninterruptible power supply (UPS) market, Frost & Sullivan honoured Vertiv with the EMEA UPS Product Leadership Award for consistently delivering superior UPS products that match the requirements of end-users. Frost & Sullivan specifically highlighted Vertiv's evolving product line and cutting-edge technology, such as the innovative Liebert® Trinergy™ Cube, as key to its success in receiving this recognition.
"Vertiv is an eminent UPS manufacturer that consistently ranks among the top three global UPS participants. It has achieved this remarkable position through a complete understanding of customer expectations and product requirements," continued Gnanajothi. "Efforts to ensure quality and reliability to build strong brand value have enabled the company to gain an impressive customer base globally. These initiatives have allowed Vertiv to achieve solid growth in 2016 through its leadership in product quality and technology."
Integrated Modular Solutions Best Value
These two EMEA honours come on the back of another prestigious accolade from Frost & Sullivan – the 2016 Asia Pacific Modular Data Centre Customer Value Leadership Award. Vertiv was awarded for its continued customer focus, combined with excellent product quality when delivering the best value to customers in the region's modular data centre market.
Vertiv's modular and prefabricated data centre solutions, which offer industry-leading scalability and flexibility, were recognised for enabling a deployment time that is up to 50 percent faster than traditional data centre designs. These have been successfully deployed in key infrastructure projects worldwide, particularly in telecom applications in Australia, the Philippines and Myanmar.
"Our focus has always been on protecting our customers' critical technologies and as challenges and demands grow, this means finding new ways to continually help them strengthen their most vital applications," said Giordano Albertazzi, president for Vertiv in EMEA. "We are delighted to be honoured by Frost & Sullivan with these three awards across EMEA and APAC, which highlight our dedication to innovation and perpetual commitment to our customers across the globe."
Read the Frost & Sullivan press releases to learn more about the EMEA awards:
About Vertiv
Vertiv designs, builds and services critical infrastructure that enables vital applications for data centres, communication networks and commercial and industrial facilities. Formerly Emerson Network Power, Vertiv supports today's growing mobile and cloud computing markets with a portfolio of power, thermal and infrastructure management solutions including the ASCO®, Chloride®, Liebert®, NetSure™ and Trellis™ brands. Sales in fiscal 2016 were $4.4 billion. For more information, visit VertivCo.com.
Contact:
Lara Bunston
T +44 208 618 282
E Lara.Bunston@fhflondon.co.uk
About Frost & Sullivan
Frost & Sullivan, the Growth Partnership Company, works in collaboration with clients to leverage visionary innovation that addresses the global challenges and related growth opportunities that will make or break today's market participants. For more than 50 years, we have been developing growth strategies for the global 1000, emerging businesses, the public sector and the investment community. Contact us: Start the discussion.
Contact:
Chiara Carella
T +44 (0) 207.343.8314
E chiara.carella@frost.com

---