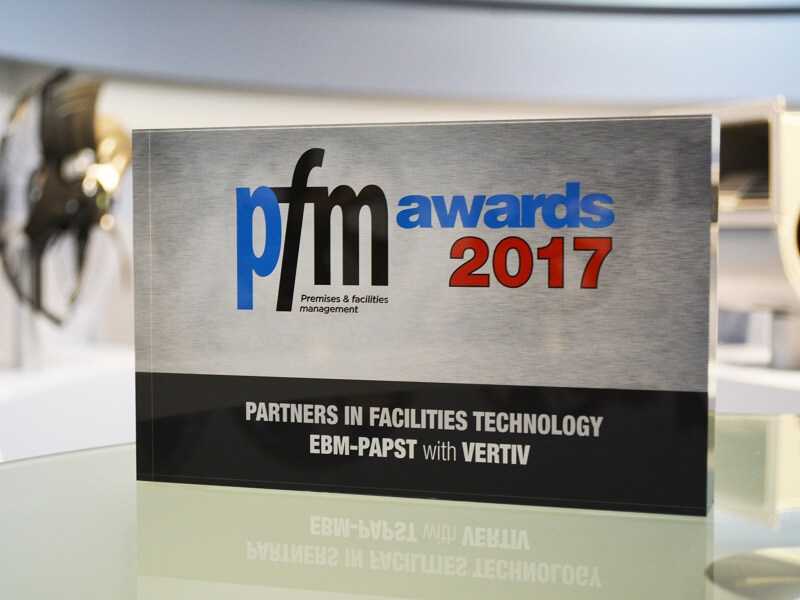 Vertiv has collaborated with ebm-papst and CBRE to win Partners in Facilities Technology at the Premises and Facilities Management (PFM) Awards. The PFM Awards recognise the growing importance of technology solutions that lead to greater business efficiency and reward forward-thinking companies who invest in leading-edge technology solutions. Vertiv's integral involvement to review the energy efficiency at three of Global Banking Group UBS's London-based data centres was chosen for the PFM's Partners in Facilities Technology award after a rigorous assessment from the judges and a record number of entries. The award ceremony was held at The Brewery, Chiswell Street, London, and the well-respected event saw attendance by more than 600 people from the facilities management community.
Vertiv and ebm-papst were chosen as winners of this award as we have demonstrated to the judges that we can work closely together to deliver well thought out and highly efficient solutions to customers looking to reduce the energy consumption of their legacy data centres. With world class fan products and an innovative approach to the application and installation of those fans, along with the Vertiv ICOM™ control system, the judges were left in no doubt as to the quality of the partnership and the end results delivered to CBRE.
Award-Winning Energy Savings
To determine what potential solutions were needed, along with the estimated payback period, an initial site survey by Vertiv's Data Centre Optimisation experts and ebm-papst was carried out to review the types of CRAC units being used. The units that were in place before the project commenced were chilled water with an optional switch to lower performance, utilising AC fan technology. In order to improve efficiency, it was recommended to upgrade the equipment with EC fan technology. Based on the survey results, a trial was then agreed on a single 10UC and 14UC CRAC unit to establish actual performance and energy savings. Data was logged before the upgrade and again once the trial units were upgraded from AC to EC fans.
Since completion of the project, UBS has benefited from an annual power saving of 48 percent across the whole data centre, which has allowed the organisation to increase IT power consumption in addition to reducing CO2 emissions and energy costs. Over the past 5 years since the project completed, UBS has achieved:
Energy savings - 10,657 MWh
Financial savings - £667,836
CO2 savings - 5,229 tonnes
This project underpins the technical expertise within our team and by our partners' ebm-papst and CBRE. These upgrades not only provide the customer with attractive energy and financial savings but the EC fan technology increases the site's reliability and extends components life-span, resulting in a reduced maintenance burden.
Optimisation of Your Existing Thermal Management Infrastructure
Vertiv offers Data Centre Optimisation Assessments which are conducted to enhance IT system availability by identifying and eliminating hot spots, as well as providing vital recommendations for maximising the performance and efficiency of a company's existing cooling infrastructure. This is achieved by carrying out an investigative, on-site analysis measuring the effectiveness of the data centre or telecom, sites critical equipment cooling methods. The assessment is furthermore designed to identify airflow issues in existing room conditions, accomplished through Computational Fluid Dynamics (CFD) modelling which illustrates the data centre's thermal condition and airflow patterns.
To find out how Vertiv can maximise the performance and efficiency of your existing cooling infrastructure click here, or read more about our EC Fan upgrade service.
---